Penofin® Marine Oil Formula
Penofin Marine Oil finish protects and beautifies like no varnish can...

penetrates to fight moisture below the surface

eliminates the cause of cracking, peeling and checking

fights damage from the sun's uv rays

wet-sand with Penofin to fill and seal in one operation

easy application and touch up is a breeze

strong mildewcide action

no more scraping

Penofin seals and protects the mill-bright beauty of natural wood giving it that "hand-rubbed" look mariners prefer. Penofin is a high-performance wood finish offering many features that make it unique: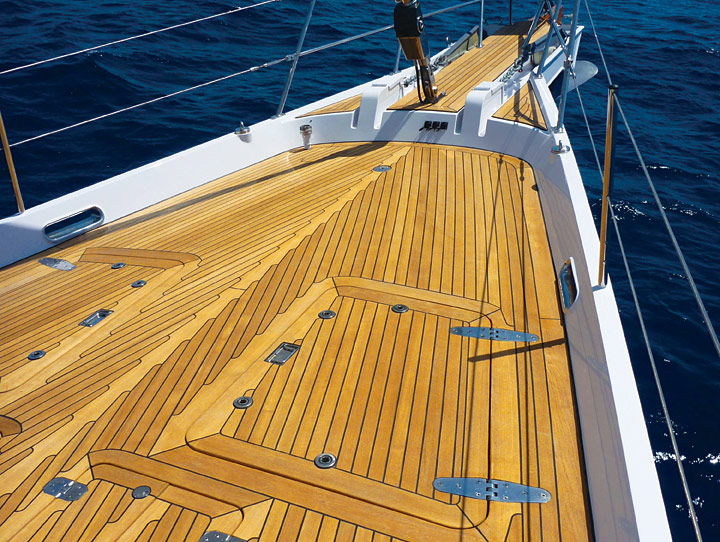 Penofin soaks into the wood fibers, so there is no surface film to crack, peel or blotch.
Microporous finish allows wood to breathe thereby preventing rapid contraction and expansion the primary cause of buckling and cracking.
Brazilian Rosewood Oil (from Oiticica nuts) is the base and primary solid. This exotic oil deeply penetrates to harden and stabilize the wood fibers.
Transoxide pigments are strategic metals, microscopically ground, which effectively block 99-percent of the sun's damaging ultraviolet rays, the major cause of discoloration.
Transparent finish enhances, never obscures, the grain and natural beauty of fine wood. Penofin outlasts any other clear wood finish on the market - and is guaranteed to perform.
Easy maintenance: Just clean the surface and apply Penofin over the original application - no sanding is necessary.
Finish types: Obtain a high-gloss "bright," flat-matte or any sheen in between.
Wood New England

A division of R. George Woodworking, Inc.

(c)2007 Wood New England. All rights reserved.

Chicopee, MA 01013
413.534.9599
service@woodnewengland.com